Description
The set contains: 1. Belt conveyor TT-50 2. Fruit and vegetable washing machine Barboter BR-02 3. Pipe calibrator CK-02 4. Worktable with lighting 5. Rolgang RG-01
| | |
| --- | --- |
| Purpose of the device: | Transportation of fruits and vegetables |
| Device color: | Unpainted stainless-steel sheet and profiles |
| Application standards: | SRPS, DIN, ISO |
| Device support: | On four adjustable supports. |
| Device dimensions (L x B x H): | 3110mm x 1020mm x 1330mm ± 30 mm. |
| Filling height: | Hu = 1330 ± 30 mm. |
| Output height: | Hi = 1045 ± 30 mm. |
| Load-bearing structure: | metal sheet / welds / profiles. |
| Conveyor type: | modular conveyor belt M2533. |
| Width on the conveyor: | 650 mm. |
| Engine power: | P = 0.37 kW |
| Operating voltage: | U = 380 V. |
2. Fruit and vegetable washing machine Barboter BR-02
Purpose of the device:
washing fruits and vegetables.
Device color:
Unpainted stainless-steel sheet and profiles
Application standards:
SRPS, DIN, ISO
Device support:
on four adjustable supports without gluing to the base.
Device dimensions (L x B x H):
3960mm x 1060mm x 2045mm ± 25mm.
Device weight:
500 kg
Parts in contact with the raw material:
Acid-resistant stainless-steel sheet, WN 1.4301.
Conveyor type:
sectional belt M2533.
Tape width:
600 mm.
Fan drive:
Motor power:
P = 1.1 kW.
Fan speed:
n = 2800 rpm.
Elevator drive:
Motor power:
P = 0.37kW.
Gear speed:
n = 28 rpm.
Capacity:
1 t / hour.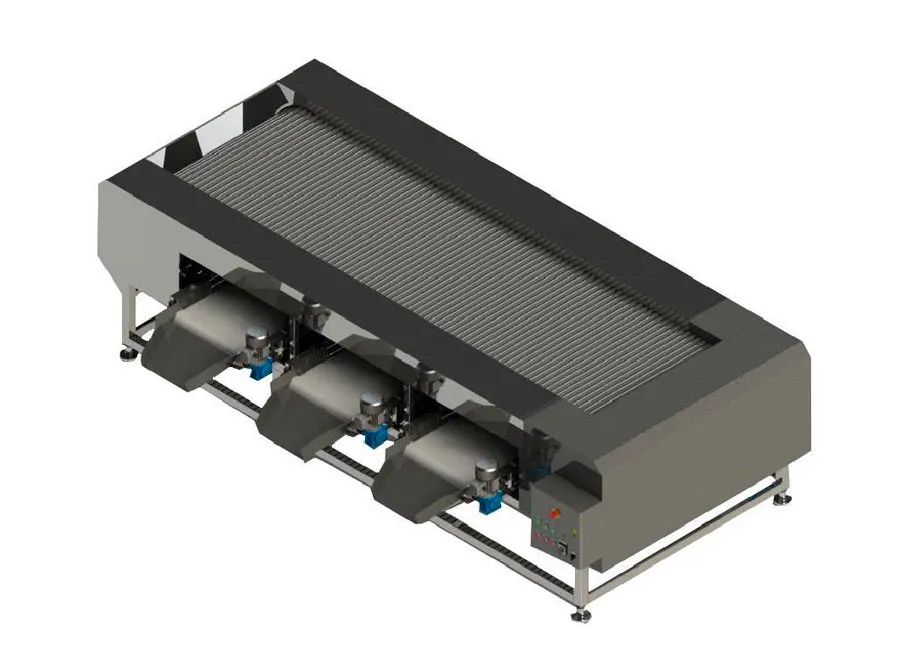 | | |
| --- | --- |
| Purpose of the device: | Fruit calibration (plum, cherry, sour cherry, strawberry, blackberry, raspberry). |
| Device color: | Unpainted stainless-steel sheet and profiles |
| Application standards: | SRPS, DIN, ISO |
| Device support: | on four adjustable supports without gluing to the base. |
| Device dimensions (L x B x H): | 4350mm x 2150mm x 1195mm ± 55mm. |
| Device weight: | 1000 kg |
| Parts in contact with the raw material: | Acid-resistant stainless-steel sheet, WN 1.4301. |
| Load-bearing structure | metal sheet / welds / profiles. |
| Number of sections: | 3, possibility to adjust the distance between the tubes by sections. |
| Calibration range: | 6 to 40 mm. |
| Capacity: | 1 t / hour. |
| Number of lanes: | 3 pcs. |
| Calibrator drive: | Electric motor P = 1.1 kW. |
| Belt conveyor drive: | Electric motor P = 0.25 kW x 3. |
| Operating voltage: | U = 380V. |
4. Worktable with lighting
| | |
| --- | --- |
| Dimensions of the table: | L x B x H = 920 x 1920 x 1000/2000 mm. |
| Worktop: | 2 mm thick stainless-steel sheet. |
| Main construction: | stainless steel pipe 40 x 30 mm. |
| Lighting: | Fluorescent tube lights in reinforcement with protective cover made of polycarbonate 2x36W. |
| | |
| --- | --- |
| Purpose of the device: | Manual movement of packages, cassettes, boxes, etc. |
| Device color: | Uncolored stainless-steel sheet and profiles. |
| Application standards: | SRPS, DIN, ISO. |
| Device suspension: | free suspension. |
| Dimensions of the device (L x B x H): | 1240mm x 460mm x 155mm. |
| Device weight: | 11 kg. |
| Load-bearing structure: | metal sheet/ welds / profiles. |
| Device holder: | stainless steel tube. |